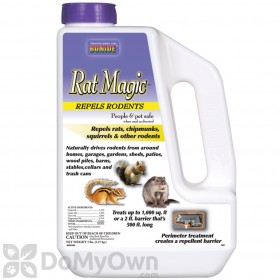 On Sale!
$21.41
Buy Now
Bob from Inverness, Florida writes,
06/11/2017:
If the Rat Magic Rodent Repellent does not work may I return it?
Answer:
We would suggest if you have not done so already that you call in and speak to one of our customer service representatives to ensure that the Rat Magic is going to be the best thing for your needs and situation. Since every home and rodent problem is different there is not a one size fits all and with repellents, you have to be very particular with how and where they are applied to be effective. You can reach our staff at 866-581-7378.
We only allow returns on unused merchandise. If the product has been used it is no longer in retail condition and we cannot accept the return.
 No Hassle Return Policy
Returning items to DoMyOwn is easy. Returns must be received WITHIN 90 days from the date of purchase.

To qualify for a refund, all items must be returned unopened, in their original condition at the time of sale, including the original packaging and all tags, labels, containers, documentation, etc. Do not mark or deface original manufacturer containers in any manner. We will not accept returns if packaging is opened or not in its original condition - we will return such items to you. If you reject that return shipment, DoMyOwn reserves the right to liquidate the inventory and withhold credit.
Answer last updated on: 06/12/2017
0 of 1 people found this answer helpful. Was it helpful to you? Yes No