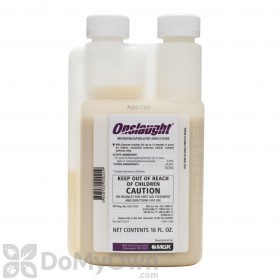 $49.50
Buy Now
Kim from Silvis Illinois writes,
09/17/2014:
In my home i have biting midges and tons of larva what would i use to kill larvae?
I have been using 565 plus xlo does great but i have so much larva in everything ,carpet, cabinets.,furniture i need something long lasting or what else can i use with the spray?
Answer:
Biting midges do generally not enter structures, but midges are small enough to get through 16 mesh screens. Getting mesh screens with a higher number can keep these and other very tiny insects out of your home. Since non-biting midges are attracted to lights, draw your shades at night and wait as long as possible to turn on exterior lights to keep them away from your home. Onslaught is a liquid insecticide labeled for midges and can be used inside and outside the home. Spraying Onslaught on window screens, doors, bushes, and plants around your home can act as midge repellant to keep midges away. Inside the home we recommend thoroughly vacumming the entire home. Dispose of the contents immediately in trash bag and take outside. Apply 1oz of Onslaught per gallon of water as a coarse, wet spray to surfaces where these pests are normally found. Treat floors, baseboards, around doors and windows, in attics, crawl spaces, eaves, corners, closets, walls, utility pipes, storage areas, and all cracks and crevices. Treat underneath sinks, dishwashers, refrigerators, stoves, the underside of shelves, drawers, cabinets, areas behind pipes, and in all places where these insects shelter. Contact as many insects as possible with direct spray. Repeat applications as needed, but do not exceed more than one application every seven days. Continue to vacuum daily in between treatments.

Answer last updated on: 09/17/2014
1 of 1 people found this answer helpful. Was it helpful to you? Yes No