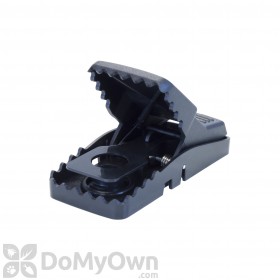 $5.99
Buy Now
Kris writes,
11/07/2010:
Is the Mini T-Rex Mouse Trap effective for shrews?
I've been using the Victor professional mouse snap traps baited with a peanut butter/oatmeal/bacon grease mix UNDER the trigger in the 'V' to catch shrews. Has this form of trap been used to catch shrews as well? I've had one too many bar slip off the catch while setting!
Answer:
OUCH! We too have had our fingers stuck in mouse traps and even worse rat traps with painful results. The Mini T-Rex Mouse Traps have the same catching power as a traditional wooden mouse traps but without the risk of getting your fingers "snapped". You should place these traps exactly like you have placed your wooden traps and you will have success.
Answer last updated on: 11/07/2010
3 of 5 people found this answer helpful. Was it helpful to you? Yes No