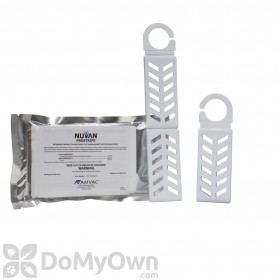 On Sale!
$36.53
Buy Now
Jo from Salt Lake City, Ut writes,
09/24/2014:
I've had a persistent pantry moth problem that appears to have moved out of the pantry and into other rooms....
Can I leave Nuvan strips throughout my condo for two weeks while I'm out of town? I have had the condo sprayed, bombed, traps set up for over a year and can't seem to get this problem resolved. I also don't live here full time. So it seems I make a little headway on it; leave and they return full force. I was thinking of leavingthe Nuvan strips out for two weeks with the place closed up to help with the problem. I also have pheromone traps in each room to help trap the moths. I have no idea where the food source is at this time. It could be in the walls, the vents, etc. The two exterminators I've used don't seem to want to follow up on this. Help!!
Answer:
We cannot recommend to apply Nuvan strips in an open area like the whole condo. There are too many areas the vapors could escape. Now if you wanted to seal up a closet and use them that would work great! Please review our Pantry Moth control page. We recommend the Pantry Pest kit. We would recommend to add Cykick CS. Cy-Kick Residual Aerosol with a crevice tool (straw) for spraying in cracks and crevices around shelves and walls to kill pantry pest larvae and harborage areas. All contaminated food should be removed prior to treatment. Use products as directed on their corresponding labels. Be sure that you are discarding of any food that may be left for the extended time you are away. The bombs do not work as well, because they only kill what comes in contact with it. The Cy kick will help to treat them in the larvae and pupae states hidden in cracks and crevices.

Answer last updated on: 09/24/2014
Was this answer helpful to you? Yes No