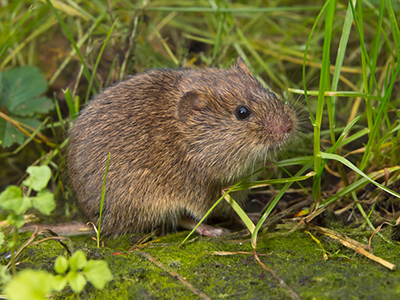 Voles are small rodents that are very common in fields and yards. They are often called field mice, meadow mice, or meadow moles, and create surface runways that help to identify their presence.
Since they do look like other small rodents, such as mice and moles, it's important to be able to identify voles so you can get rid of them correctly.
Physical Description
(What Voles Look Like)
Voles have certain characteristics that will help you tell them apart from other common small rodents:
Voles can range in length depending on the species, but can be about 3-7 inches long, and weigh only a few ounces. They are about the size of a mouse.
They have small ears and very small eyes and short tails; these features help separate them from true mice.
They can vary in color from brown to gray.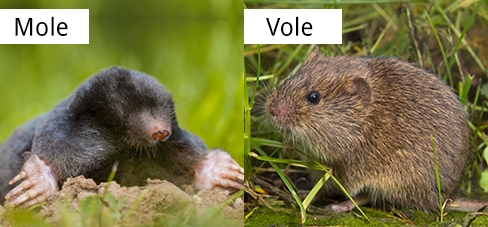 Voles are active year-round, day and night. They can sometimes get confused with moles (see vole vs mole image above), since some species do create tunnel systems underground. However, they spend a lot of time above ground and they eat plants, not insects, like
moles
.
Voles create runways in grass, and keep these runways trimmed short, which helps you to find and identify vole presence.
Sometimes, voles will use mole tunnel systems to feed on plant structures underground, but you will find voles above ground much more often.