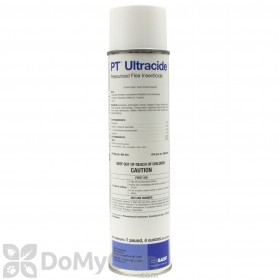 $22.49
Buy Now
Adam from St. Paul Mn writes,
11/07/2014:
4 weeks of Ultracide and fleas are still terrible- is this normal?
I have a severe infestation of fleas in my home and have been using Ultracide to treat them for exactly 4 weeks today. I have been applying to ALL floor surfaces, washing linen daily and vacuuming all floor surfaces daily during this time. I noticed the "knock down" the day I first used it and for the first two weeks the population seemed to be steadily dropping off. I have not seen any full grown brown adults in the past 2 weeks which is reassuring but In the past several days the population seems to be rebounding and I'm very worried they are developing a tolerance to it. Last night was so bad I didn't sleep because as soon as I lay down I felt them crawling all over me in bed (while wearing long sleeve clothing and flea repellent no less) Is tolerance to Ultracide a possibilty? If so, what do I do next?
Answer:
You are doing exactly what you should be doing. If you are still seeing fleas, it is possible that the problem was worse than you initally though. You will need to do treatments with the Ultracide until the fleas are completely gone. You will also keep vacuuming daily for the 14 days. The fleas will not build up a tolerance to it.
Answer last updated on: 11/07/2014
12 of 13 people found this answer helpful. Was it helpful to you? Yes No