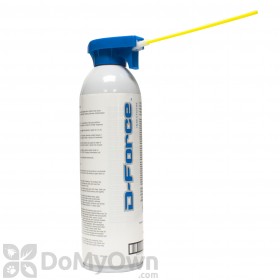 $17.20
Buy Now
Annette writes,
08/01/2011:
What is a good product similar to D-Force HPX for total spider elimination?
I have used D-Force HPX to kill spiders on contact and in our cars (around tire wells, in the trunks and around the doors). I have a serious brown widow problem that is getting worse each week. They are outside our house and inside our 1200 square foot shop. I have used D-Force HPX with great success when I hit the spider directly. Is there a product that works this good, but that will cover the entire shop and isn't so expensive for such a large area. How can I kill them without spraying them direcly? I have noticed that if the spiders do not crawl across any chemicals they will not die. I have used spray foggers to no avail and just sprayed inside and outside the house and shop with Cyonara too. Any suggestions?
Answer:
Demon WP is a great choice for spider control. Demon WP is a wettable powder that is diluted in water, and then sprayed around door frames, window frames, in areas where utilities (cables, pipes, wires) enter into a structure, around the bottom of the foundation and other area where insects are known to harbor. Demon WP will also eliminate the other insects in the area which in turn will help discourage other spiders from moving in since they will not have a food source to rely on. Demon WP can leave a white powdery residue on dark surfaces. If the powdery residue is a concern you can choose a micro-encapsulated product such as Onslaught.
Answer last updated on: 08/01/2011
1 of 1 people found this answer helpful. Was it helpful to you? Yes No