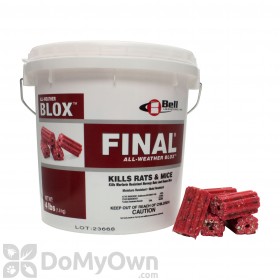 $104.50
Buy Now
Ben from Smithville, Texas writes,
03/28/2015:
What is the best mouse bait for field mice in Texas?
I am using ten Protecta LP bait stations on my place for mouse control. The blox I am currently using are the green Tomcat bait chunx with 0.01% Bromethalin. They seem to be disappearing, but I want to make sure I am using the most potent thing you have. They seem to work, but can I get more bang for my buck with something else? I know they say "if it ain't broke, don't fix it". At this point I don't know if it is even broke! Please advise...and Thanks.
Answer:
Our quickest killing bait uses .01 Bromethalin. You could try Final Blox which contains a more attractive bait matrix. It will kill with a single feed.
Answer last updated on: 03/30/2015
2 of 2 people found this answer helpful. Was it helpful to you? Yes No