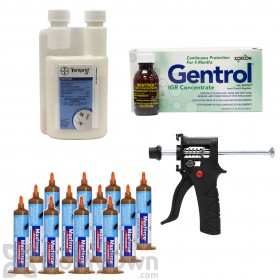 $260.00
Buy Now
James writes,
03/02/2010:
What is the best product for tolerant roaches?
I have a warehouse and have sprayed every chemical I could buy. The roaches now just sit and laugh while they multiply by the thousands. Do you have any suggestions as what to use for a commercial application?
Answer:
Is there food stored in the warehouse? If there is not a lot of food competition, then I would recommend baiting very heavily using Maxforce FC Magnum Roach Bait Gel. Small dabs in a ton of places is the key. In addition, you should use Gentrol IGR, which will prevent the roaches from maturing and reproducing which in turn will slow down the life cycle and the numbers of small roaches you are dealing with. You should use both the gel and the Gentrol in places off of the ground. Around the floor area and underneath things, you should apply Temprid SC. The use of these three key products should start to knock down large numbers of roaches unless there is some major condition that we were not told about. The three products are offered in our Commercial Roach Control Kit. Obviously, any food or water sources that are not cleaned up and taken care of will prolong the problem indefinitely. Please let us know if you have any further questions. Good Luck!
Answer last updated on: 03/02/2010
6 of 6 people found this answer helpful. Was it helpful to you? Yes No