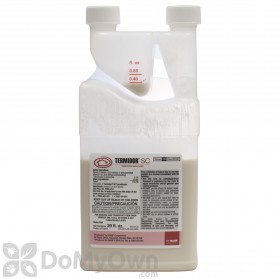 $69.00
Buy Now
Rich from United States writes,
05/07/2015:
What is the shelf life of Termidor SC?
I had purchased two bottles of Termidor, Product ID: A0007, back in May of 2013. Is this product still effective and is it applied in the same manner as your current Termidor SC product?
Answer:
Termidor SC has a 3-5 year shelf life from the date of purchase if stored away from extreme temperatures. Termidor Foam should have a shelf life of about 1-2 years. The nozzle and hose should just be rinsed with water after use. Termidor DRY shelf life if stored in a cool dry area is up to 3 years.

Answer last updated on: 05/07/2015
3 of 3 people found this answer helpful. Was it helpful to you? Yes No