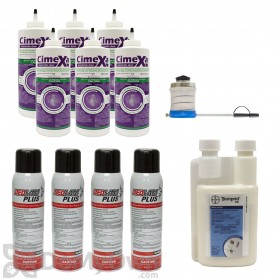 $229.00
Buy Now
Ron writes,
09/22/2009:
Where can I find the MSDS for the products in the Commercial Bedbug Kit?
How long do people and pets need to wait before they can re-enter the treated areas?
Answer:
All of the MSDS and product labels for these products can be found on the individual product pages. All of the products require children and pets to be in an other room while you are treating. Once the products have been applied, you should not re-enter the room for about an hour. After that period the products should all be dry and it is ok for children and pets to re-enter the room. Here are links to the individual products (included in the Commercial Bedbug Kit) where the product instructions and msds sheets can be found.
Answer last updated on: 09/22/2009
1 of 1 people found this answer helpful. Was it helpful to you? Yes No