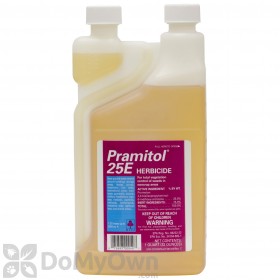 $26.64
Buy Now
David from Ormond Beach, Fl writes,
06/13/2017:
Would using Pramitol 25E after Roundup work to kill and keep weeds dead?
We have an area where we don't want grass/weeds. It's a beach. We're getting some weed/grass growth through the crushed shell. I'd like to kill the stuff that's there quickly and not have to do it again for a while. If I can do this, how long should I wait after the Roundup? I don't want to mix them because roundup needs to dry and Prramitol needs to be wet in.
Answer:
Although Pramitol 25E has considerable activity through foliar contact, much of its activity is through roots; therefore, its effectiveness is dependent on rainfall to move it into the root zone. Very dry soil conditions and lack of sufficient rainfall may result in poor weed control. Be sure to use the recommended amount of water per the product label. 
When applying Pramitol 25E to a small area with backpack or pump-up sprayers with capacities of 1 - 3 gals., calibrate the sprayer so that 1 gal. of water covers 500 sq. ft. If green foliage is present, part or all of the water can be substituted with oil to provide burndown. This would be recommended instead of mixing with Roundup. 
Answer last updated on: 06/13/2017
Was this answer helpful to you? Yes No