Why Shop with Us
Alpine WSG (water-soluble granule) is a non-pyrethroid, non-repellent broad-spectrum insecticide that uses the active ingredient Dinotefuran. Dinotefuran has been granted Reduced Risk status for public health use by the EPA. Alpine WSG can be used in attics and eaves; on exterior hard surfaces like sidewalks, driveways, patios and porches; on full exterior sides of buildings; indoors as a broadcast interior treatment on carpets, rugs, floors, upholstered furniture, pet beds and resting areas; and off structure as a broadcast application for fleas and ants.
Alpine WSG is effective against a wide range of common insects such as brown marmorated stink bugs, kudzu bugs, ants, fleas, bed bugs, house flies, and German cockroaches. Alpine WSG has residual activity of 30 to 60 days for most applications.
Choose from 3 options below:
Alpine WSG comes packaged in convenient 10 g packages (sachets). Just tear the package open and empty it into your spray tank and then throw the package into the trashcan. There is no rinsing required with this product. The diluted mixture of Alpine WSG is odorless, non-staining, and does not settle once mixed. Alpine WSG does not clog your spray equipment because it dissolves completely in water.
OR
Plastic jar that contains 500 grams of granular insecticide and a measuring cup.
OR
Tip and pour bottle that contains 200 grams
| | |
| --- | --- |
| Active Ingredient: | Dinotefuran 40% |
| Target pests: | Ants (including Argentine, Carpenter, Harvester, Odorous House, Red Imported and Southern Fire; excluding Pharaoh), Asian Lady Beetles, Bean Plataspid (= Kudzu Bug), Bed Bugs, Brown Marmorated Stink Bugs, Centipedes, Collembola, Crickets, Earwigs, Fleas, German Cockroaches, House Flies, Millipedes, Mosquitoes (Anopheles), Paper Wasps, Pillbugs, Sowbugs, Spiders (excluding Brown Recluse) and Yellowjackets |
| For use in: | FOR USE IN AND AROUND: Apartments; Campgrounds; Cemeteries; Clinics; Dog Kennels; Green Belts; Homes; Hospitals; Hotels; Mausoleums; Mobile Homes; Motels; Non Food/Feed Areas of Food Processing Plants; Nursing Homes; Resorts; Schools; Storage Buildings; Trailers; Transportation Equipment [Autos, Buses, Boats, Ships, Trains, Trucks, Planes (cargo areas only)]; Utilities; Warehouses; Commercial, Industrial and Residential Buildings; Theme Parks; Parks & Recreational Areas, and Zoos |
| Pet safe: | Yes, when used as directed. |
| Yield: | One gallon of finished dilution treats 1,000 sq. ft. |
| NOT FOR SALE TO: | CT, MD, NY |
| Special Features: | Dinotefuran has been granted Reduced Risk status for public health use by the EPA. |
| Shipping Weight: | 0.03 lbs |
| Manufactured By: | BASF (Mfg. Number: 59012844) |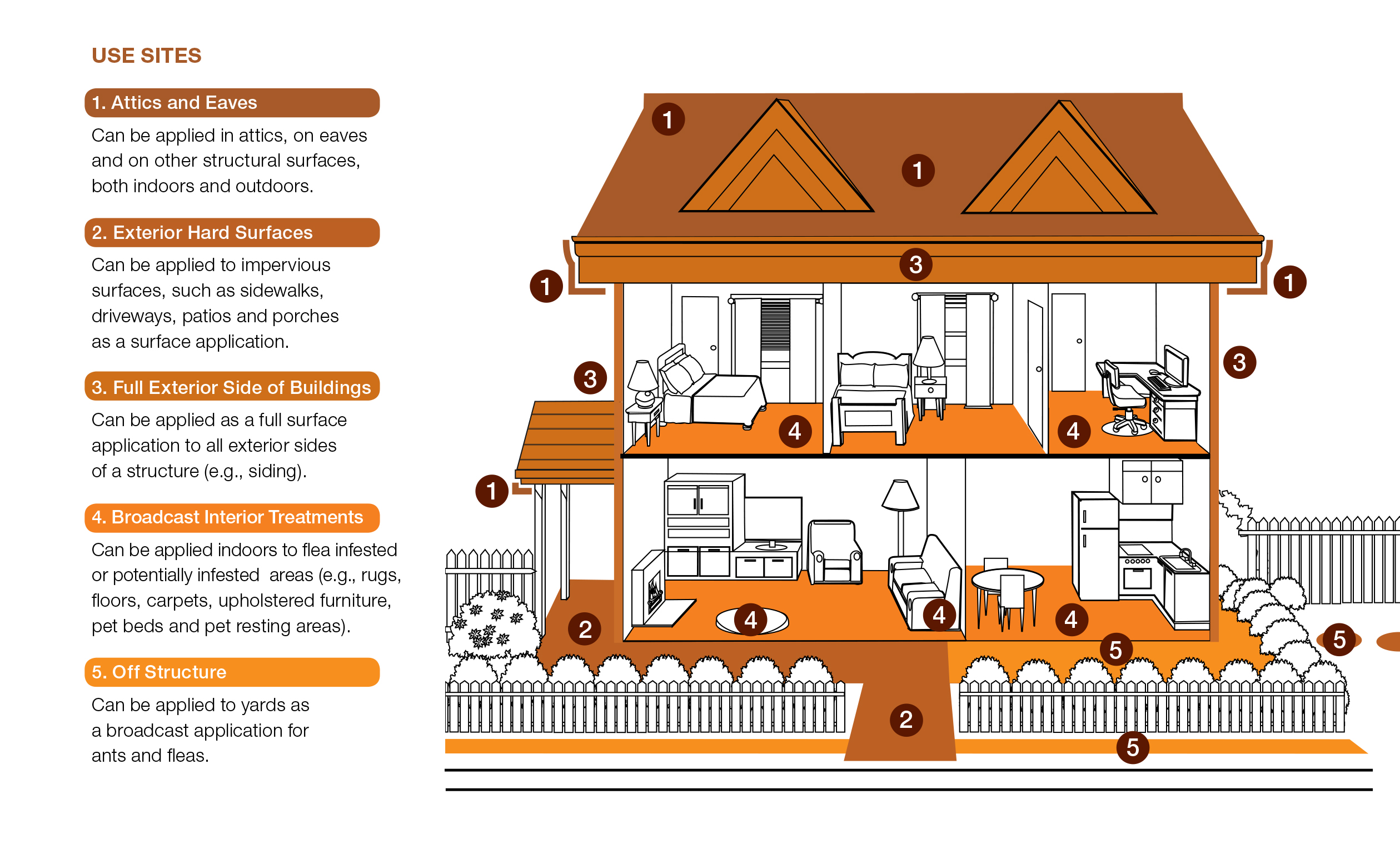 (click to enlarge)




(click to enlarge)

Desired Finish Dilution Concentration
0.1% dilution: 1 package (10 g) to 1 gallon of water
0.2% dilution: 2 packages (10 g) to 1 gallon of water
0.3% dilution: 3 packages (10 g) to 1 gallon of water
Most Helpful Q&A's
Most Recent Customer Questions