Why Choose Muck Boots?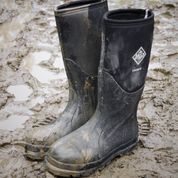 Whether you're just in the back yard or out in the fields, many outdoor jobs can get very messy. The harder you work, the messier you get, and finding quality outerwear can be a huge challenge, especially when it comes to footwear.
The Original Muck Boots we sell have been designed to handle whatever your life demands:
All-purpose, all weather: It can be hard to find a boot that can suit your needs all year round. With natural rubber and self-insulating CR-foam (neoprene), these boots are 100 percent waterproof and keep you comfortable in all temperatures, from subzero to a steamy 85 degrees. A breathable lining keeps your feet comfortable. These variables make Muck Boots perfect at any time of year, anywhere around the country.
Comfortable and hardworking: For their performance, these boots are extremely lightweight, with durable outsoles double or triple layered and with thick tread for stability.
Low maintenance: No matter what your day brings you, washing it off is a snap with the blast of a hose or a little soap and a scrub. The rubber can be conditioned with wax polish or detergent, and can be repaired with marine-grade sealant.

Muck Boot Features:
NEW xpresscool lining helps to spread moisture to speed the evaporation process.
Xpresscool fabric also pulls the moisture away from your skin to keep your feet warmer, even in the coldest weather conditions.
Waterproof
Extremely comfortable
Durable



Using Muck Boots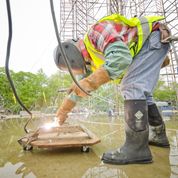 Muck Boots are made for every job you can throw at them:
Slip on a pair to work in the garden
Wear them for all hunting seasons
Trek in snow without the fear of chill
Put them to the test on the farm or in the fields
Stand and work on the job site all day with comfort and performance.
Casual styles allow you to maintain the hard working performance of Muck Boots while looking stylish.
From steel-toe to camouflage or pink, we have Muck Boots on sale in a wide range of styles that will fit any man, woman, or even kid's lifestyle.
Can't find the product you are looking for? E-mail us and we'll get it for you!
We sell professional do it yourself pest control (diy), exterminator and
extermination insecticide, pesticide, chemical and bug killer treatment
products to spray, eliminate and exterminate pests.
Many of our products are not available in stores
such as Home Depot, Walmart or Lowes.