Quick View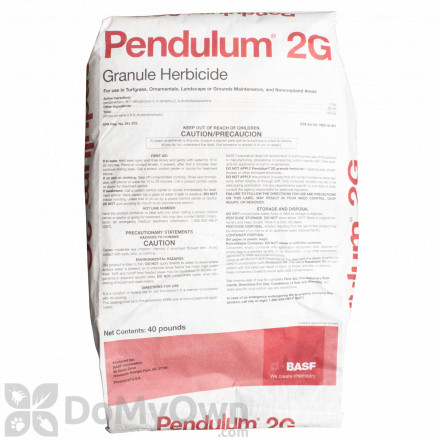 (18)
$101.85
Free Shipping!
Multiple sizes available

A professional selective pre-emergent granular herbicide that controls crabgrass and more than 40 grass and broad-leaf weeds.
Quick View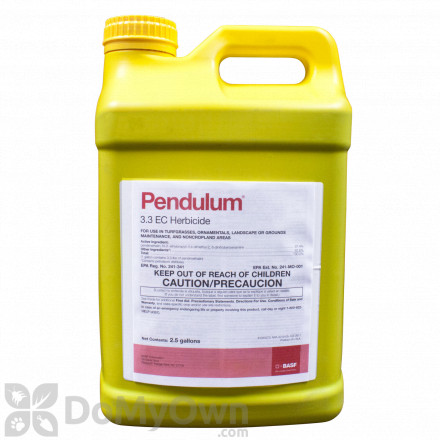 (29)
$109.99Out of Stock
Free Shipping!
A professional selective pre-emergent herbicide in a oil-based formulation of Pendimethalin that controls 40 types of annual grasses and broad-leaf weeds.
What is a selective herbicide?
Selective herbicides are just what you would think. Rather than killing all plants indiscriminately, pendimethalin kills only certain kinds of weeds that are detrimental to the desired crop. Target plants include annual grasses and broadleaf weeds.
What is the best timing for pendamethalin products?
Products containing the active ingredient pendimethalin can be used both preemergence (before target weeds emerge) or early postemergence (just after weeds have sprouted).
Mode of Action
Pendamethalin is an inhibitor of plant cell division and cell elongation. It is absorbed into the target plant at the roots and shoots and the plant is no longer able to grow.
Animal & Environmental Toxicity
Pendimethalin is highly toxic to fish, but non-toxic to birds. It will not leach through the soil to contaminate ground water. Garden products that contain pendimethalin must carry the word "Caution" or "Warning".

Human Toxicity
When handling products that contain pendamethalin it is imperative to wear the proper clothing, which should be outlined for you on the product label. This chemical is considered "slightly toxic" if ingested, inhaled, or absorbed through the skin. Applicators of this product are at risk for these kinds of exposures during mixing, loading, and spraying if the proper clothing is not worn.
Products Containing Pendamethalin
Pendulum 3.3 EC - 2.5 Gallon
Pendulum AquaCap - 2.5 Gallon
Pendulum 2G - 40 lb. bag
Can't find the product you are looking for? E-mail us and we'll get it for you!
We sell professional do it yourself pest control (diy), exterminator and
extermination insecticide, pesticide, chemical and bug killer treatment
products to spray, eliminate and exterminate pests.
Many of our products are not available in stores
such as Home Depot, Walmart or Lowes.