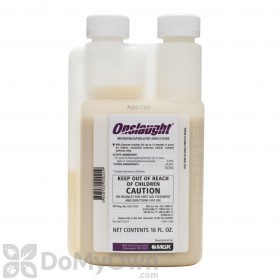 $49.50
Buy Now
Mat writes,
02/18/2011:
Why is Onslaught so much more than others like Bifen and Conquer?
I did my research on the insecticide portion of my planned flea control program (will be mixing with an IGR). What does the Onslaught offer that products like Bifen, Conquer and Demise do not? The significantly higher price tag must be due to some increased benefits.
Answer:
Each of the products you mentioned have different active ingredients, or different formulations and different manufacturers. So that we are comparing apples to apples, we will compare Onslaught and Conquer which both have the same active ingredient, Esfenvalerate and both are sold in pint size bottles. Conquer contains 3.48% of the active ingredient and Onslaught contains 6.40% of the active ingredient. You will use 1 ounce of Conquer to make 1 gallon of finished solution for flea control while you will only use .5 of Onslaught to make one finished gallon of solution for flea control. Conquer is labeled for about 50 insects, Onslaught is labeled for about 200. Onslaught also has the benefit of being micro-encapsulated which makes it safer to use indoors and makes it last longer outdoors.
Bifen is not a good choice for indoor flea control because it cannot be used over carpeting or on furniture It can only be used in cracks and crevices around the perimeter of the room. Demize EC is a great product, which offers a fast knockdown but it does not offer any residual control and it can only be used indoors.
Answer last updated on: 02/18/2011
54 of 56 people found this answer helpful. Was it helpful to you? Yes No