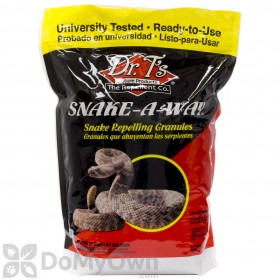 $24.11
Buy Now
Loren from Alsip, Il writes,
05/26/2015:
I have a large yard...if I put this around three sides of the fence, will the snakes exit out the open side?
I want them to go back to the neighbor's house where they came from. I am afraid if I put this around the entire perimeter of our yard, they will be "trapped" in the area. We have over 10 garden snakes just in the backyard alone and one got into our home over the weekend ( came in through a small opening in the wall ). We are afraid we have an infestation, again from the neighbor's yard ( rotting wooden shed, overgrown lawn and waist high weeds ). Any help or suggestions you may have will be greatly appreciated!
Answer:
If you place the Snake Away on three sides and leave an area for them to exit that would be better then placing a full perimeter treatment. Applying on all sides could keep them inside the area.
Answer last updated on: 05/26/2015
4 of 4 people found this answer helpful. Was it helpful to you? Yes No