Quick View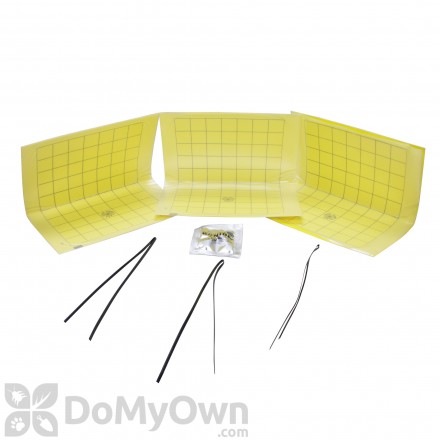 (4)
$19.48Out of Stock
Free Shipping!
Dual action pheromone lure in its controlled release dispenser lasts 4 weeks and attracts/traps both Brown Marmorated and Green Stink Bugs up to 50 feet away.
About Stink Bug Traps
Stink bug traps rely on using things that will attract the stink bugs to the traps, like a scent, pheromone, or light. Most stink bug traps are also sticky, so the stink bugs get stuck to the surface.
Stink bugs can become a nuisance when inside. While they don't bite or even reproduce indoors, they can become annoying and smelly. Once fall hits, they begin to look for a place to overwinter and work their way into your home, and if they deem your home a suitable place to overwinter, they will alert more stink bugs to the area. A stink bug trap will help to lure stink bugs all throughout your home so you won't have to worry about a large amount of stink bugs camping out in your home.
How To Use Stink Bug Traps
Stink bug traps are fairly easy to use, but there are some steps you can take to ensure they are as effective as possible:
Traps with light will help to lure the insects and also release the scent or pheromone lure. Do not hang in direct sunlight and make sure there are no other lights on in the room when trap is left on overnight.
Stink bug activity tends to increase in warmer areas. Hang traps in upper floors or in attics.
If you notice more stink bugs in one area rather than another, focus traps to that area.
Outdoors, hang traps near problem areas to lure the stink bugs away from the trees and into the traps.
Do not rely on traps alone to totally control your stink bug problem, especially indoors. Exclusion from buildings (all cracks, crevices, and access points) as well as vacuuming and stink bug sprays can be used together to help get rid of stink bugs. See our entire selection of stink bug killer products for additional options.
Always read instructions carefully before use.
Can't find the product you are looking for? E-mail us and we'll get it for you!
We sell professional do it yourself pest control (diy), exterminator and
extermination insecticide, pesticide, chemical and bug killer treatment
products to spray, eliminate and exterminate pests.
Many of our products are not available in stores
such as Home Depot, Walmart or Lowes.