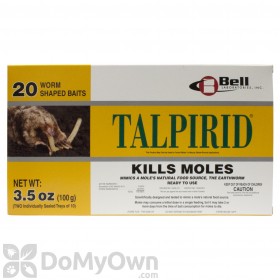 $40.50
Buy Now
Jean from Miamisburg, Ohio writes,
05/14/2015:
Can Talpirid Bait be absorbed in root crops like potatoes?
Answer:
Talpirid Bait may only be used in lawns, parks, around homes, golf courses, ornamental gardens, nurseries and other non-crop grassy areas. We would recommend using a mole trap for your situation. The Talpirid Mole Trap is safe and easy to use.
Answer last updated on: 05/15/2015
1 of 1 people found this answer helpful. Was it helpful to you? Yes No