Why Shop with Us

Alpine Yellow Jacket Bait Stations are an intuitive, easy and effective way to control Yellow Jackets around your home. Just one kit will provide you with enough product to treat Yellow Jackets year after year without ever having to buy another station, trap or insecticide. Each kit contains four reusable bait stations with hanging strings and one pint of Onslaught insecticide concentrate, the only insecticide labeled for Yellow Jacket baiting. You use the stations by placing a mixture of tuna or other food attractant (see below for examples) with a small amount of onslaught insecticide in each Alpine bait station. The stations are then hung around the outside of the home, out of reach of children, but accessible to yellow jackets. The Alpine bait stations will attract the stinging insects where they will contact, ingest and spread the insecticide, eliminating the yellow jacket problem sometimes within just a few days. Additional Alpine bait stations are sold separately.
There are several species of yellow jackets that are not scavengers and would not be attracted to the stations. We recommend trying out a few baits without the Onslaught before using the kit to ensure the species you are treating will take to a bait. A few recommended baits: raw chicken pieces, raw fish, canned tuna, cat food, or fruit
Alpine Yellow Jacket Bait Station Kit with Onslaught contains these products:
Cost of separate parts: $89.90
Kit price: $84.95
You save $4.95!
| | |
| --- | --- |
| Target pests: | Yellow Jackets. |
| Pet safe: | Yes, when used as directed. |
| NOT FOR SALE TO: | CT |
| Shipping Weight: | 1.40 lbs |
Alpine Yellowjacket Bait Stations are designed and labeled for use with Onslaught microencapsulated insecticide. When used together, they are the perfect combination for controlling yellowjackets (also commonly called meat bees) around residences, restaurants, resorts, campgrounds, zoos and other areas where humans or animals are harassed by yellowjackets.

Onlsaught insecticide is the only insecticide with an EPA approved label for yellowjacket baiting.


How to use the stations :
STEP 1. We recommend testing a few types of bait before using the stations. Recommended food baits incude raw chicken pieces, raw fish, canned tuna, or cat food. Raw chicken pieces or tuna tend to work the best.



Testing several foods. Looks like they are going for chicken!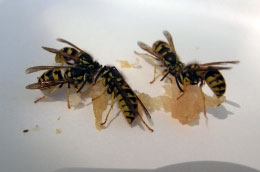 Yellowjackets devouring chicken bait.


STEP 2. Mix your choice of bait with Onslaught. You only need a very small amount of Onslaught for the bait to be effective. We recommend mixing 1/4 teaspoon of Onslaught per 12 oz. of bait.


STEP 3. Place a few ounces of bait in each station and hang the stations outside around your home 5-6 feet off the ground and about 50 feet apart. For example, you could hang the trap from a tree limb. Keep the stations out of reach of children, but in areas where the yellow jackets can enter the stations.



Most Helpful Customer Reviews
Most Recent Customer Reviews
Most Helpful Q&A's
Most Recent Customer Questions