Anyone with experience in DIY knows, quality equipment truly makes a difference. And doing your own pest control or lawn care is no exception.
Sprayers are commonly used to apply liquid insecticides, herbicides, fungicides, and fertilizers around a home or in a yard. But with multiple sprayer types on the market at various price points, it can be hard to decide which sprayer is right for your property.
DoMyOwn's sprayer buyer's guide will help you determine the following:
Sprayer Types - Hand Pump, Backpack, ATV Mount, and More
Hand Pump Sprayers
These are the most common sprayers, great for first-time DIYers to use. The base of hand pump sprayers are typically made of plastic or metal and come in 1 and 2 gallon sizes. A top containing a pump that doubles as a handle can screw off, allowing the liquid to be poured inside the base.
To operate hand pump sprayers, you will pump the handle up and down to create pressure within the sprayer. Then, push the trigger lever on the spray wand to release the liquid and let go of the trigger to stop the flow of the liquid.
Backpack Sprayers
Carrying 3 or more gallons of liquid around your property can be tiring but the property size may not necessarily require a cart sprayer. Backpack sprayers bridge this gap, enabling you to carry several gallons of liquid around their home or lawn with relative ease.
To use a backpack sprayer, you will fill the base with your liquid then apply the top. Some backpack sprayers use a pump/handle similar to hand-pump sprayers (often located at the base of the sprayer which will align with your hips when worn) and some are battery powered. Like hand-pump sprayers, you will also release a trigger lever to operate the nozzle and release your spray.
Hose-End Sprayers
Hose-end sprayers are bottles that attach to a garden hose in place of a separate sprayer. Add your liquid insecticide or herbicide to the bottle, attach to your hose, then spray where needed.
Hose-end sprayers are commonly used in gardening to apply fertilizer to flowers, plants, and shrubs. Some fertilizers will come prepared in their own hose-end sprayer bottle to make the application process even easier.
While hose-end sprayers are very simple to use, most insecticides and herbicides require a separate sprayer for application, where the mixing ratio can be more accurately measured.
Cart Sprayers, ATV Sprayers, and Tow Behinds
Pull behind sprayers, tow behind sprayers, and cart sprayers are large capacity sprayers that have wheels, or a cart attached to make it easy to carry them throughout your property. Cart sprayers hold many gallons of liquid, making them a smart choice for large yards and athletic fields. ATV sprayers are meant to be attached to an ATV or the back of a truck. They are mostly used in professional settings, on farms, large properties, golf courses, and other athletic fields.
Sprayers differ by type and manufacturer, but hand pump sprayers, backpack sprayers, and cart sprayers often share some of these same features.
1. The tank. This is where the liquid is held.
2. The top. The handle/pump is included in the top of a hand pump sprayer.
3. The spray wand. This is where the liquid moves from the tank to the nozzle.
4. The nozzle. This is where the liquid is released from the sprayer. Some sprayers have adjustable nozzles or different nozzles available, allowing the user to control the size and height of the band of liquid being sprayed.
5. The trigger lever. This allows the user to turn the spray on and off. Depending on the manufacturer, this can also be called a handle, lever, or valve. For the sake of consistency, we have called it a trigger lever in our guide.
6. The battery pack. In backpack sprayers this would be found in the back of the sprayer. In smaller sprayers, this would be found in the front of the tank or in the top/handle. Not all sprayers have battery packs.
Which Sprayer is Right for Me?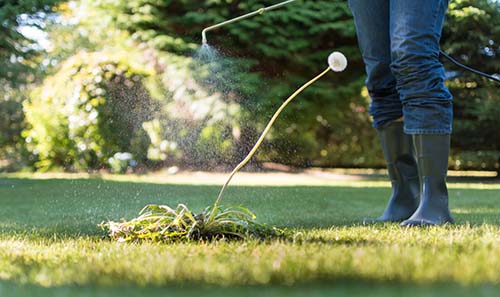 When deciding which sprayer to purchase, consider the following:
1. What will you be using your sprayer for and how often?
Is your sprayer primarily needed for a perimeter insecticide pest control treatment and the occasional post-emergent herbicide treatment to kill weeds? Do you want to fertilize or apply pre-emergent to your entire lawn? Will you be applying once a month or twice a year? Knowing how often your sprayer will be used and why you will be using it will be important in making your decision.
2. How large is your property?
Do you have a two-bedroom apartment or a 10,000 square foot single-family home? Do you live on half an acre of land or 5 acres? If you are treating a large area, a sprayer with a larger tank will prevent you from having to stop frequently to refill and remix your product, which can be a pain. If you have a small property or will be doing your own pest treatment a smaller sprayer may be all you need.
Those with larger properties should also opt for battery operated sprayers to prevent tiring out when using their sprayer. Pumping the sprayer repeatedly over acres of land will discourage anyone from using their sprayer as often as needed.
3. What is your budget?
Generally, with sprayers, the larger the sprayer the higher the price point. Basic sprayers like a one-gallon hand-pump sprayer start at under $25 while large ATV sprayers can be hundreds if not thousands of dollars.
Don't forget to think about durability when making your decision. A plastic hand-pump sprayer may last a few years but a metal hand-pump sprayer can last decades. B&G Hand Pump Sprayers are an industry favorite because most of the parts are replaceable, extending the life of the sprayer infinitely.
How to Maintain Your Sprayer
Once you have chosen the sprayer or sprayers that are right for your needs, you will want to maintain your equipment to get the best spray possible, every time.
Make sure you do the following after each use:
1. Remove any remaining chemicals from your sprayer according to the label of the product you are using.
2. Thoroughly rinse out your sprayer with water. Be sure to spray some water through the nozzle to rinse out the wand and nozzle tip. Use warm water if possible and add sprayer cleaner if needed.
3. Dry thoroughly.
4. Store your sprayer in a clean, dry place when not in use. Be sure the temperature will not drop too low to prevent the tank or wand from cracking.
It is incredibly important to clean and maintain your sprayer after each use to prevent chemical mixing, the deterioration of your sprayer, and to ensure each time you use an insecticide, herbicide, or fungicide, you are getting a pure application that is effective. Check out our Sprayer Maintenance Guide for more tips on how to keep your sprayer clean and well-maintained year-round.
$29.69


(2)
$20.80


(2)
$23.78


(1)
Ready to purchase a sprayer of our own? Shop DoMyOwn's selection of sprayers here.
Have questions about purchasing a sprayer? Give our expert customer service team a call at 866-581-7378 or email support@domyown.com for more information.