About European Hornets
European hornets are very large and can be as large as an inch and a half long. They have brown to reddish brown and yellow stripes, and resemble a yellow jacket in markings. While they are very large and look intimidating, they are no more dangerous than other similar stinging insects.
European hornets nest in hollow trees, barns, sheds, attics, wall-voids, and other sheltered, protected sites. They rarely make nests out in the open, and old nests are never reused.
These stinging insects have a few habits that make them stand out amongst their yellow jacket and wasp counterparts. They can be active at night as well as during the day, and are attracted to lights at night. Sometimes they may fly repeatedly into windows at night, beating against the glass, and can cause alarm to those inside. However, this is a harmless habit. They can also damage some trees and shrubs to get the sap in the branches, such as lilac, birch, dogwood, and ash trees. They girdle twigs and branches and can cause dieback.
European Hornet Nest Removal
The best way to control problematic European hornets is to get rid of the nest if it is in an area near to areas of human activity. Only nests that are a direct threat to people should be treated.
Start by locating the nest. If you have not easily found it, you can use a ripe apple as bait, leaving the apple on the ground and observe the hornets feeding and following them to their nest, moving the apple around until you've pinpointed the nest area.
Since European hornets are active both during the day and night, you have to be very careful when treating the nests. Treat right before sunrise, when it is still dark out, as this is the most likely time that hive activity will be at its lowest.
If using a flashlight, ensure the light is not shining on the person applying the insecticide.
Wearing protective equipment, including long sleeves and pants, boots, gloves, eye protection, and a hat, and possibly even a full bee suit.
Most products labeled for use against wasps, hornets, and yellow jackets will work on European hornets. Spray products that provide a long spray stream and quick knockdown, like Wasp Freeze Aerosol, and products with foaming agents that expand in the nest, are quick acting options that can be applied directly into the entrance of the nest, but can cause hornets to fly out of the nest to attack and should only be used when the nest must be eradicated as soon as possible.
Insecticidal dusts can be applied inside the nest as well, but these are slower acting and the applicator may have to get much closer when treating the nest.
After treating, leave the nest for several days, monitoring the hornet activity to make sure they have all died or exited the nest. The nest can then be broken up and disposed of in a sealed bag.
Giant European Hornet Nest in Tree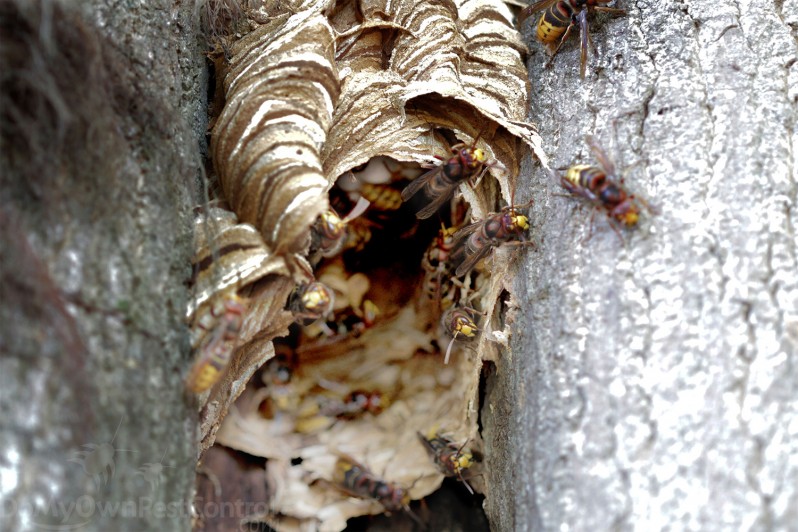 Giant European Hornet Up Close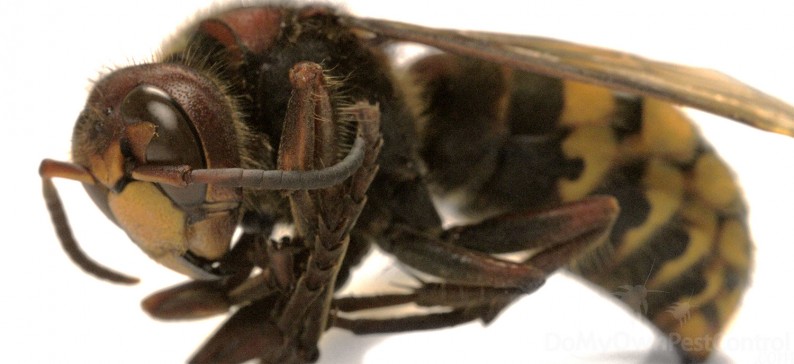 Can't find the product you are looking for? E-mail us and we'll get it for you!
We sell professional do it yourself pest control (diy), exterminator and
extermination insecticide, pesticide, chemical and bug killer treatment
products to spray, eliminate and exterminate pests.
Many of our products are not available in stores
such as Home Depot, Walmart or Lowes.